Research Day 2018: Welcome to the New Family of UB Sociology
As part of the introduction of the academic atmosphere for new students in class 2018, the UB Sociology Department in collaboration with the Sociology Student Association (Himasigi) held Research Day 2018. The lively event involved all the large families of UB Sociology, both as speakers and committee members, from S1 to S3 levels . The event took place on November 24, 2018 in Nuswantara hall, FISIP UB. Although it is a scientific event, Research Day is packaged casually, but seriously. Often the speakers assisted by the event guide laughed.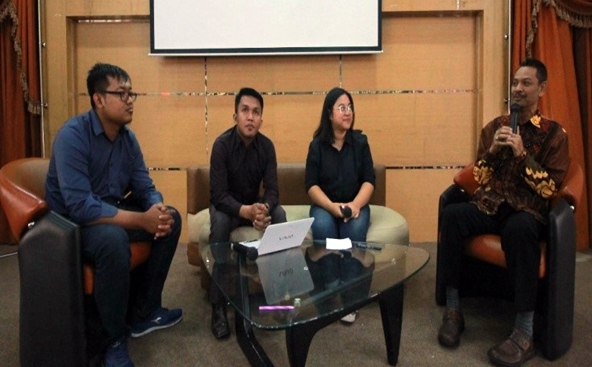 UB Sociology Alumni, from left to right: Nauval Fikri, S. Sos, Dano Purba, M.Sc, Monica (MC), and Dr. Dewa Agung Gede Agung.
In this event, around 150 new students from the Sociology Department from various levels, watched various events which were divided into several sessions. The event was divided into three sessions; opening, guest lecture by alumni Sociologists, Rerearch group lecturer presentations, sharing of thesis and KKN experiences, photo surgery, and film surgery. All programs are actually part of the Tri Dharma activities of higher education, which come from research activities, community service, and teaching. The event was closed by the appearance of Socikoclogy, which also held a reunion, because the band first appeared at the same event in 2013.